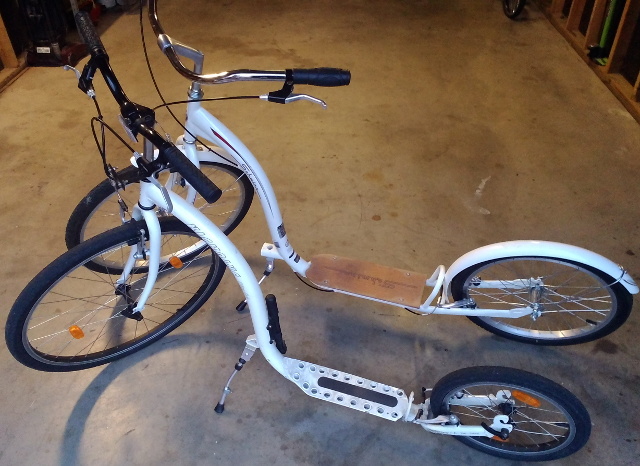 Note: I removed the fenders and basket from my Kickbike City G4 for a sportier look. The Kick Bike City G4 is in the front, and the Schwinn Shuffle is in back.
I had been a recreational cyclist for a long time but got to thinking about weight-bearing exercise later last year (2016). This led me down the path of looking for something equally fun (and comparably paced) but weight bearing in nature.
Enter the Kick Bike. I recalled seeing a cross between a bicycle and skateboard during my college days. I had no idea what it was at the time (and had honestly forgotten about it) but after a little online research, I discovered that what I saw all those years ago was a kickbike of some sort.
When researching, I narrowed my search down to the Kickbike City G4 and Schwinn Shuffle. At the time, the Schwinn Shuffle was not available at any local or online retailer, so the decision was easy and I sprung for a Kickbike City G4 (purchased locally). I have been happily kick biking around a couple times a week ever since.
Earlier this year, my mother (who was intrigued by my stories about the Kickbike) ended up purchasing a Schwinn Shuffle (model number S5808AZ). Since my initial research, it had become available again. During my last visit, I took the Shuffle for a spin (and measure), which provided an opportunity for me to ride and compare (or review) the 2 bikes so I figured I would share my thoughts.
Primary differences
Foot platform (deck) - The Kickbike's foot platform (deck) is lower to the ground and smaller than the Shuffle's. In my opinion, this is the biggest difference between the 2 bikes. The lower platform on the G4 allows for a more efficient kick stroke (standing knee bends less). I suspect there may also be benefits if you have knee issues; the lower platform feels much less strenuous on the knee. The foot platform on the Shuffle is wider though, which may be a benefit for some. Additionally, if you are relatively tall (over 6 feet or 1.83 meters), the impact of the platform height may diminish (but be careful, the Shuffle does have a lower weight limit than the Kick Bike). I am 5' 11" (1.8 m) and can feel the difference in platform height; if you ride the bikes one after another, it is like night and day. If you have only ridden one or the other, it may not be as noticeable.

Size - The Kickbike is more compact and is about 60% scooter and 40% bike. The Shuffle is larger and more like 40% scooter and 60% bike. Not a scientific measurement - just my impression. The largest contributors to this are the 20" rear wheel on the Shuffle and the slightly larger dimensions overall.

Design - The Kickbike is of higher build quality, more like a hybrid city bike (even though it is advertised as a commuter), and more maneuverable. The Shuffle does not feel as solid, is more like a beach cruiser, and less maneuverable (namely turn radius). The build quality also influences things like rolling resistance (the Kickbike has exceptionally low rolling resistance).

Price - The Kickbike is about 3x more expensive than the Shuffle.
Side by side comparison
| Comparison | Kickbike | Shuffle |
| --- | --- | --- |
| Mass (weight) | ~22 lbs (10 kg) | ~27 lbs (12.2 kg) |
| Length | ~63" (161 cm) | ~70" (178 cm) |
| Height | ~41" (105 cm) | ~44" (112 cm) |
| Handle Bar Style | Straight | Beach Cruiser |
| Handle Bar Height | ~40.5 - 42" (103 - 107 cm) | ~42 - 44" (107 - 111 cm) |
| Front wheel | 26" | 26" |
| Rear wheel | 16" | 20" |
| Foot Platform (deck) HEIGHT | ~3.5" (9 cm) | ~6" (15 cm) |
| Foot Platform (deck) WIDTH | ~4.25" (11 cm) | ~5.25" (13 cm) |
| Foot Platform (deck) LENGTH | ~13" (33 cm) | ~16" (41 cm) |
| Fenders | Front+Rear | Front+Rear |
| Kickstand | Yes | Yes |
| Accessories | Bell/basket/air pump+mount | None |
| Weight limit | 265 lbs (~120 kg) | 200 lbs (~90 kg) |
| Price | $375 - $425 | $125 - $175 |
Note: These are approximate measurements (within 0.25" or 0.6 cm). There are slight conflicts with the manufacturer's specifications in some cases.
Final thoughts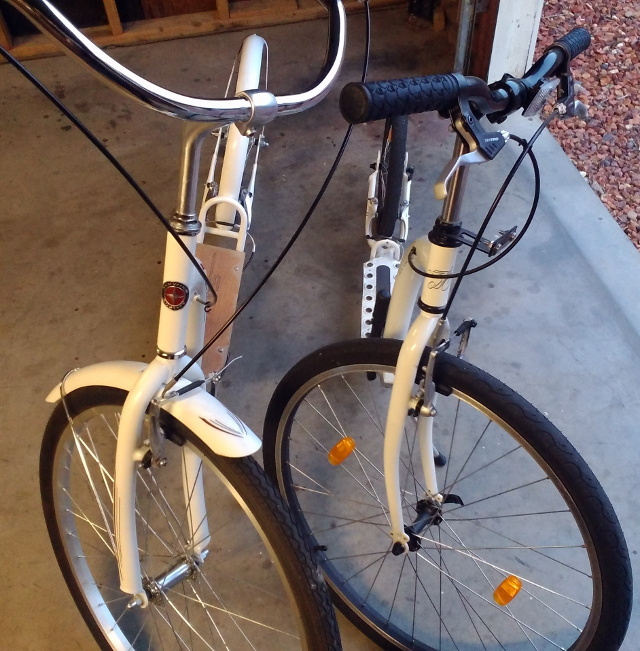 I have minimalistic tendencies, so in hindsight (had the Shuffle been available or had I been more patient), I would have likely purchased the Shuffle over the Kickbike. My only hesitation (had I known) would have been the height of the foot platform.
The Shuffle would have certainly addressed my exercise needs and likely provided a better workout (more energy expended over a shorter distance, albeit with more knee strain). Since I had no standard for comparison, I am guessing the height of the foot platform would not have been as big a factor.
That said, I ended up purchasing the Kickbike City G4 and am very pleased. I would not give up the G4 for a Shuffle, even if I could recover the difference in cost.
Whatever you decide, be safe and have fun kick biking! You will love it.