All product names, logos, and brands used in this post are property of their respective owners.
After putting some mileage on my Rowbike 726 King this spring and summer, the chain guide pulley at the bottom of the power lever has gotten a little chewed up around the edges. As a result, the chain and shock cord sometimes catch while retracting into the power lever. That is especially true in low gears (1 and 2 primarily).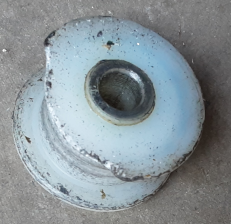 Note, this IS NOT the Dave cam or shock cord pulley wheel(s). It is the pulley wheel on the bottom of the power lever where the chain (and crimped end of the shock cord) emerge.
I have personally had difficulty finding parts for the older Rowbikes (possibly unique to the 726 King). BUT, I found a cheap ($6 USD), suitable replacement for the plastic pulley in the form of a metal "drive belt idler pulley wheel." I procured mine on eBay from rongchen-tech, but they may be available elsewhere.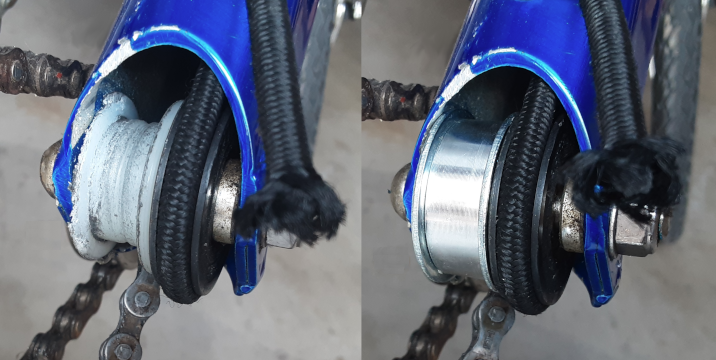 Idler pulley wheel specifications for the Rowbike 726 King
Finish: Smooth (no teeth)
Teeth: 35 (only relevant for sizing of the smooth version)
Bore (axle): 8 mm
Slot width: 11 mm
Slot diameter: 32 mm
Outer width: 15 mm
Outer diameter: 36 mm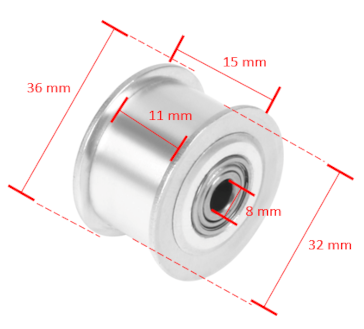 Closing thoughts
The replacement pulley has worked pretty well thus far. I believe the aluminum pulley wheel's advantages include:
Less resistance (ball bearing)
Ease and effectiveness of lubrication (metal on metal - in this case, chain on pulley wheel)
Durability/wear - in theory, the aluminum should be stronger than the plastic pulley, but time will tell (also noting this as a disadvantage)
The disadvantages are:
Slightly larger inner diameter (ID) of replacement pulley - this causes the chain and shock cord to catch while retracting into the power lever if the pulley and chain are not well-lubricated
Noise - the metal pulley wheel is louder (grinding) than the plastic one
Durability/wear - I am not sure how the aluminum will hold up (that pulley gets thrashed by the chain and aluminum is soft)
Worth a look if the chain pulley on the end of your Rowbike power lever is worn out or broken.