I am the proud owner of a "Street Rambler" outdoor elliptical bike. Machines like this can be purchased on eBay or through Alibaba - Street Ramblers are basically a lower cost reproduction of the "Street Strider" elliptical. I suspect the difference in price is at least partially attributed to the quality of the parts and construction.
Although it has been relatively reliable (see my post on what I actually replaced in 1.75 years of ownership and about 1,100 miles on the bike), when things go wrong, it is often a challenge to find replacement parts. I've compiled a list here in hopes that it helps someone.
Parts reference
If you are a fellow Street Rambler owner and have discovered or replaced a part I have not covered, please leave a comment and I will include your findings here (with due credit).
Notes on tires and tubes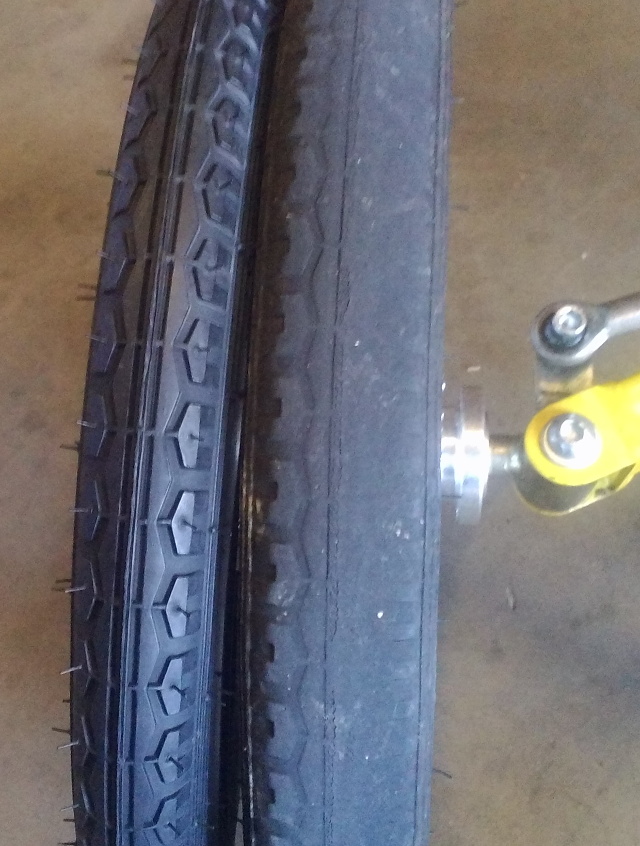 No, that is not a racing slick on the right - that is a Sunlite tire on the Street Rambler with around 300 miles (483 Km) on it. The original tread pattern is shown on the left.
The Street Rambler ships with "Super Diamond" tires all around. The front tires wear VERY rapidly and excessively. If I recall, I got maybe 50 miles out of the front tires - at that point, they had worn all the way through to the inner tube. If nothing else, I guarantee you will replace tires on your Street Rambler outdoor elliptical.
The Sunlite replacements have fared much better than the stock tires. At just shy of 300 miles, I had yet to replace them. They still wear faster than your usual bicycle tires (I suspect road camber and the "carving" motion of the front end).
If you dislike changing tires and want something that requires almost no maintenance, have a look at my post on outdoor elliptical bike flat proof (noflat, solid) tire options.
A final option
I have never pursued this option, but you may also be able to contact the manufacturer (Yongkang Towin Hardware) of the Street Rambler and order replacement parts. I had another question at one point and Michael Gao was very responsive via the info@cntowin.com address on Towin's site. Note: Purchasing parts this way would likely require a Western Union funds transfer to an overseas account, so use your judgment.