Note: Special thanks to Bob and Hervey Hawk at Cycle Cave in Albuquerque, NM for their recommendations and assistance with keeping my Street Rambler on the road. After 46 years of service to the Albuquerque cycling community, Cycle Cave closed in late 2019. Their dedication and service will always be remembered as legendary.
Machines like the "Street Rambler" outdoor elliptical bike can be purchased on eBay or through Alibaba and are a lower cost reproduction of the "Street Strider" elliptical. I suspect the difference in price is at least partially attributed to the quality of the parts and construction.
Although it has been relatively reliable (see my post on what I actually replaced in 1.75 years of ownership and about 1,100 miles on the bike), when things go wrong, it is often a challenge to find replacement parts. I've compiled a list here in hopes that it helps someone.
Parts reference
| Part | Dimension | Replacement | Match | Confirmed? |
| --- | --- | --- | --- | --- |
| Tire (front) | 16 x 1.75" | Kenda 16 x 1.75" tire | 100% | Yes |
| Tire (rear) | 18 x 1.75" | Kenda 18 x 1.75" tire | 100% | Yes |
| *Chain | 1-Speed, 1/2 x 1/8-Inch (12.7 mm x 3.2 mm), 82L | ZHIQIU FSC F410 1-Speed Bicycle Chain | 100% (once reduced from 112 to 82 links) | Yes |
| **Spokes (front) | 13G 2.2mm x 120 mm length | Unbranded MN0595 | 100% | Yes |
| **Spokes (rear) | 13G 2.2mm x 135 mm length | Unbranded MN0595 | 100% | Yes |
| Bottom bracket | 73 x 118 mm (English thread) | Sunlite SL-55 Cartridge Bottom Bracket | 98% (1-2 mm longer than factory part) | Yes |
| Bottom bracket bolt(s) | 8 mm hex, 20 mm length | Sunlite XL Hex Head Bottom Bracket Axle Bolt | 100% | Yes |
| Shifter and Bell Crank | N/A | Shimano Nexus SL-3S42 Revo | 100% | No |
| Roller brake (rear) | N/A | Shimano INTER-M BR-IM31-R | 100% | No |
*You can replace a few broken chain links with 1/2" x 1/8" master links (connecting links) instead of replacing the entire chain. Master links are easy to install (no chain tool required), but you may need a chain tool to remove the broken links first.
**You may be able to have your local bike shop cut a longer spoke to size and thread it manually. Although not as strong as the original, I've had good luck with this approach in a pinch.
If you are a fellow Street Rambler owner and have discovered or replaced a part I have not covered, please leave a comment and I will include your findings here (with due credit).
Notes on tires and tubes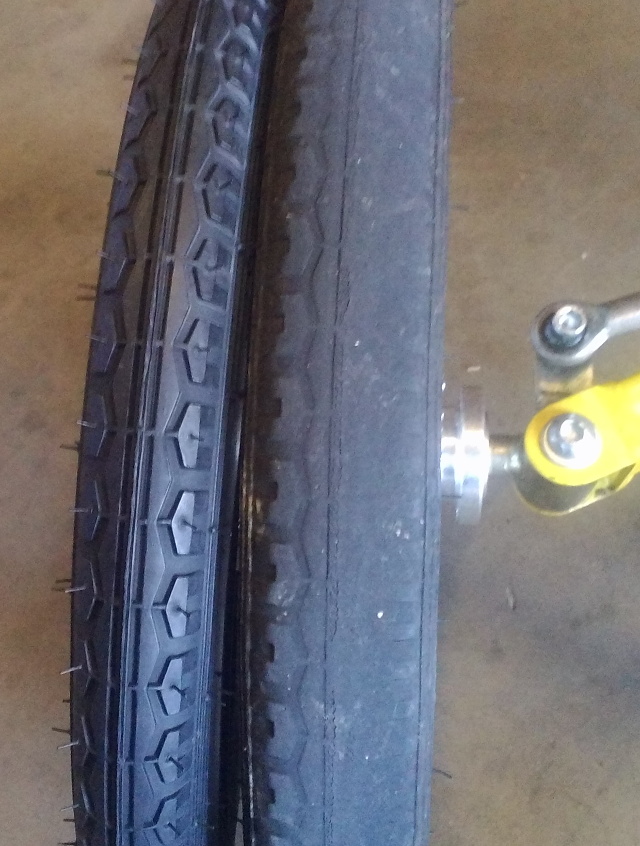 No, that is not a racing slick on the right - that is a Sunlite tire on the Street Rambler with around 300 miles (483 Km) on it. The original tread pattern is shown on the left.
The Street Rambler ships with "Super Diamond" tires all around. The front tires wear VERY rapidly and excessively. If I recall, I got maybe 50 miles out of the front tires - at that point, they had worn all the way through to the inner tube. If nothing else, I guarantee you will replace tires on your Street Rambler outdoor elliptical.
The Sunlite replacements have fared much better than the stock tires. At just shy of 300 miles, I had yet to replace them. They still wear faster than your usual bicycle tires (I suspect road camber and the "carving" motion of the front end).
If you dislike changing tires and want something that requires almost no maintenance, have a look at my post on outdoor elliptical bike flat proof (noflat, solid) tire options.
A final option
I have never pursued this option, but you may also be able to contact the manufacturer (Yongkang Towin Hardware) of the Street Rambler and order replacement parts. Note: Purchasing parts this way would likely require a Western Union funds transfer to an overseas account, so use your judgment. I would feel better if it was PayPal, but your opinion may vary.